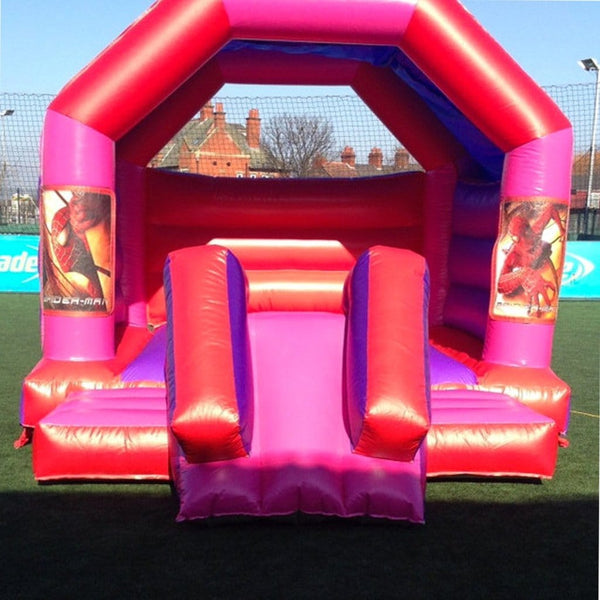 Product Sizes & Prices
One Size – (12ft x 16ft) - £70
Hire This Spider-Man Bouncy Slide Today
If you want to make your son or daughter's birthday unforgettable, you should definitely consider hiring our Spider-Man Bouncy Slide today.
This exceptional design matches our Spider-Man bouncy castle and it adds so much fun and functionality to the castle itself.
Clean, safe and well-maintained, our slide bolts right onto the side of the bouncy castle, so it's nice and secure.
Kids may play in the castle and then slide out when they feel like it.
Our Bouncy Slide is quite affordable to hire and it will help kids to get the healthy physical activity that they need.
Kids Really Love Spider-Man
Spider-Man is a cartoon icon and he's also the star of a series of live-action films.
A lot of kids relate to this famous superhero, who was shy and retiring before he was bitten by a radioactive spider and began to fight injustice in his signature superhero suit.
Kids all over the world watch Spider-Man cartoons and films, read Spider-Man comics and play with Spider-Man toys.
He's known for his epic battles with a range of foes, including the Sandman and Dr. Octopus.
Since Spider-Man is so popular, we're proud to offer a Bouncy Slide (and matching bouncy castle) to you today.
Whether you're planning a birthday party, community festival or other type of special event, you'll find that this impressive design gives kids an outlet and helps them to blow off steam.
Hire Our Spider-Man Bouncy Slide Today
Now is the right time to get your party planning organised.
To begin the process, just call us today.
We'll take care of the details for you and make sure that this fun inflatable is ready when you need it.
We are committed to offering the highest standards of customer service to our valued customers.
To find out more about Spider-Man, please click here.