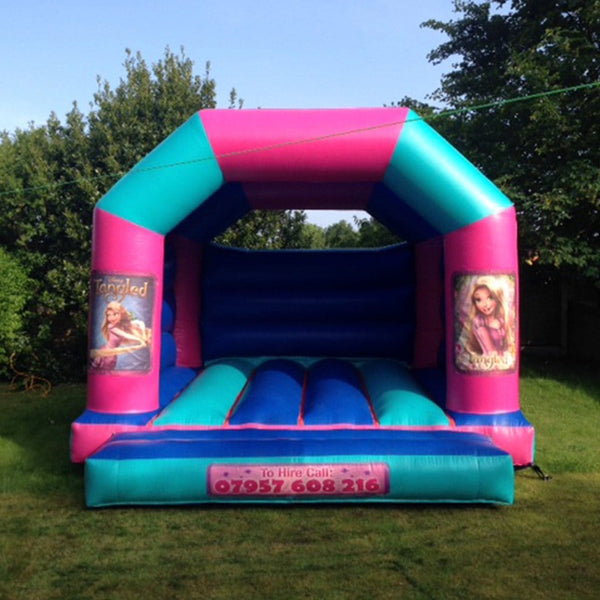 Product Sizes & Prices
Small – (10ft x 12ft) - £50
Medium – (12ft x 14ft) - £55
Large – (15ft x 15ft) - £60
Description
If your child loves the popular Disney movie, Tangled, she will be over-the-moon excited about this Tangled Bouncy Castle to highlight her next Tangled-themed party.
The castle depicts your child's favorite characters including Rapunzel, Flynn Ryder, Maximus, and Pascal.
She won't be able to contain her squeals of glee as she invites all of her friends to join the party.
This Tangled Bouncy Castle is one hundred percent safe and is completely durable.
It is designed to withstand several of even the most enthusiastic bouncers.
Your child will enjoy every second of time spent with her friends soaring through the air in this unique castle.
You will have the added benefit of relaxing with the other parents while the children have fun, secure in the knowledge that you have thrown the party of the year while expending minimal effort.
The Tangled Bouncy Castle comes in three different sizes, making it easy to choose the castle that best fits your needs.
Prices will vary depending on size, and specific colors may also vary.
Your child will thank you repeatedly for throwing such an incredible party and will likely ask for Bouncy Castles again and again.
The separate castle sizes each has a maximum weight limit and is designed to hold a certain number of children depending on its size.
Every child who enters the castle should ensure that she first removes her shoes and checks to make sure that her hands and pockets are empty of any items that could potentially puncture the lining.
We strongly recommend constant adult supervision while children are inside the castle and that the number of children allowed inside at once be limited to ensure safety.
Your child's Tangled party will be the talk of all of her friends for months to come.
After having such an amazing time, they will be sure to beg their parents for their very own Bouncy Castles when it is time to throw their own parties.
Don't bother with hanging numerous unnecessary decorations and providing expensive treats.
With the Tangled Bouncy Castle as the highlight of the day, you need only provide cake and presents!
It is extremely important to us that you are happy with the level of service that you receive.
If you experience an issue with your order at any time, don't hesitate to contact our office so we may resolve it immediately.
Let us take care of the hard part while you kick back and take all the credit for an amazing party.
Not The Right Bouncy Castle For You?
Please click here if you would like to browse the rest of our bouncy castles for hire.