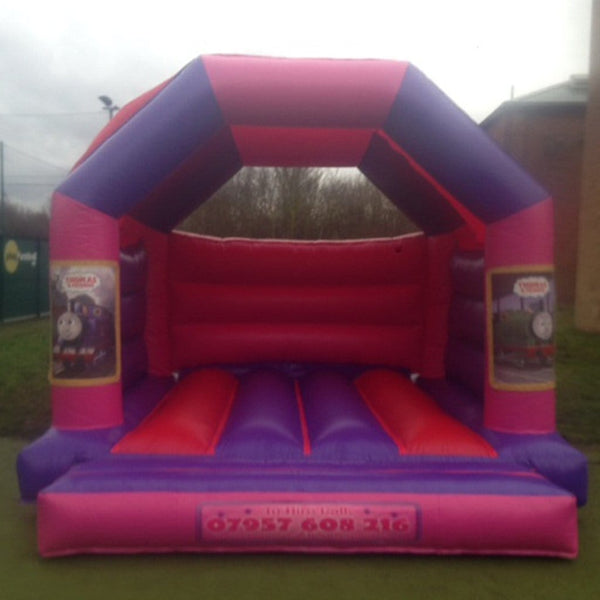 Product Sizes & Prices
Small – (10ft x 12ft) - £50
Medium – (12ft x 14ft) - £55
Large – (15ft x 15ft) - £60
Description
If you want to make a child's birthday party truly exceptional, we recommend that you hire our colourful and charming Thomas the Tank Engine Bouncy Castle today.
This is one of our most-requested Bouncy Castles, because little boys and girls adore the Thomas the Tank Engine TV show.
It's a modern classic which promotes the right values and features some adorable and inspiring characters, including hard-working and helpful Thomas himself!
When you choose this Bouncy Castle, you'll know that you're planning a perfect celebration.
We hire this design for birthday parties, as well as for festivals in the community and school events.
This Bouncy Castle is also perfect for keeping kids occupied during more grown-up events, such as anniversary parties or wedding receptions.
Kids need exercise.
These days, they spend a bit too much time using electronic gadgets and gizmos.
In the Internet Age, it's important to make sure that kids have a place to move their bodies and express themselves through physical and creative play.
Our Bouncy Castle allows kids to pretend and frolic as they bounce!
It's just so much fun for little ones to play in and it's definitely an impressive-looking design.
Learn About Thomas The Tank Engine
Almost everyone knows who Thomas the Tank Engine is!
However, we'd like to give you some background on this famous cartoon character anyway.
He's a compact steam locomotive and he's the main character in a series of book written by the Reverend Wilbert Awdry.
These books are the inspiration for Thomas' popular TV series, Thomas & Friends.
This award-winning TV animated TV show has captured the hearts of millions of children and adults all over the world.
Please Get In Touch Today
Hiring our high-quality Bouncy Castle will be so easy.
Simply call us and we'll get things organised for you.
We look forward to hearing from you.
Not The Right Bouncy Castle For You?
Please click here if you would like to browse the rest of our bouncy castles for hire.