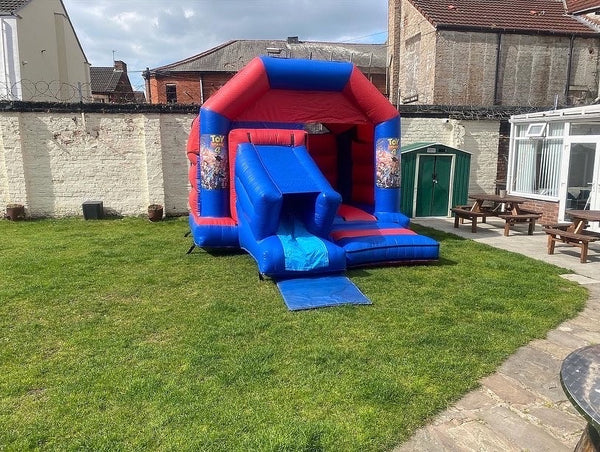 Product Sizes & Prices
Small – (10ft x 12ft) - £50
Medium – (12ft x 14ft) - £55
Large – (15ft x 15ft) - £60
Description
Bring a favorite Disney classic to life at your child's next party with this Toy Story Bouncy Castle.
Your Toy Story fan will soar to infinity and beyond with Woody and Buzz, creating a memorable party experience for him and all of his friends.
He won't be able to contain his excitement when he tells everyone about it.  
This Bouncy Castle is completely safe and highly durable and is designed to bring you peace of mind while you watch your Toy Story fan have a blast with his friends.
Several children can enjoy the castle at one time and you will get to kick back and bask in the knowledge that you have thrown a party with minimal effort that will be the hit of all of your child's friends.
The Toy Story Bouncy Castle comes in three different sizes, making it easy to choose the castle that best fits your needs.
Prices vary depending on your chosen size, and specific colors may also vary.
Your child will be ecstatic over sharing this experience with all of his closest friends.
Each castle has a maximum weight limit depending on size and can accommodate several children at one time.
In order to promote safety, we ask that each child remove his shoes and empty his hands and pockets of any objects that could potentially puncture the material.
A responsible adult should be present at all times to supervise and limit the number of children permitted inside the castle at one time.
These guidelines are in place to ensure the safety of all involved.  
Your child's Toy Story-themed party will be the hit of all of his friends and they are guaranteed to ask their parents for their own castles when it comes time to have their own parties.
Skip the over-the-top decorations and food options because your child will care for nothing else but this incredible castle (and maybe cake and presents).
It is our number one priority to ensure that you receive the best possible service when placing your order and receiving the delivery.
If you have issues at any time during the process, please call our office at once so that we may resolve the issue as quickly as possible.
Let us do the hard work to ensure that your child's party is an unrivaled success!
Not The Right Bouncy Castle For You?
Please click here if you would like to browse the rest of our bouncy castles for hire.