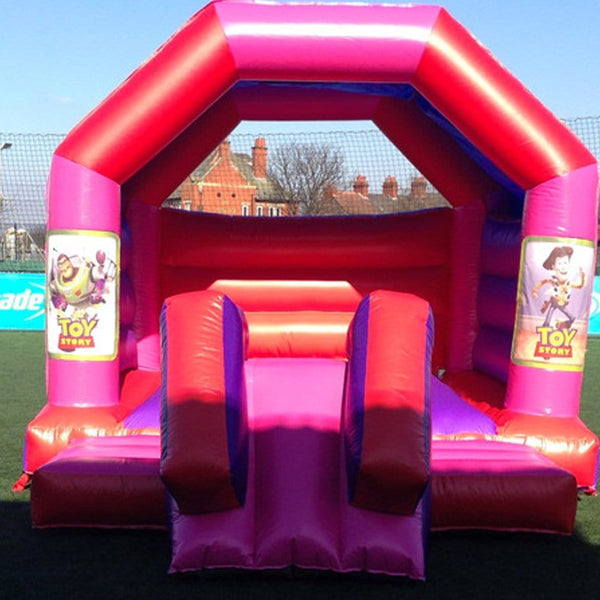 Product Sizes & Prices
One Size – (12ft x 16ft) - £70
Hire This Toy Story Bouncy Slide Today
Toy Story is a heartwarming Pixar film which has captured the hearts of children (and adults) all over the globe.
It tells the story of a faithful toy cowboy named Sheriff Woody, who is losing his connection to the boy who owns him.
Sheriff Woody just isn't happy unless his "master" is playing with him and his desire to be close to this boy sparks all kinds of wonderful adventures.
If you're looking for a way to make a beloved child's birthday party extra-special, hiring our Toy Story Bouncy Slide will be the perfect solution.
This design matches our Toy Story bouncy castle and it allows kids to slide out to the ground from inside of the bouncy castle.
Basically, it makes the bouncy castle even more fun and this is why so many parents decide to hire the Bouncy Slide, too!
Why Hire A Bouncy Slide?
We've already touched on the fact that Bouncy Slides add functionality to bouncy castles, however, there is another primary benefit of hiring our bouncy castle and this is that kids will be able to get healthy exercise by using this piece of inflatable play equipment.
These days, a lot of kids don't get enough exercise.
We live in the Internet Age and the age of computer games.
Kids tend to spend too much time sitting and not enough time moving around.
When you hire this Bouncy Slide, you'll ensure that kids are able to frolic and play during your special event.
Exercise will stabilise their moods, allow them to use their imaginations and generally boost your odds of throwing a truly successful party!
Kids will have an outlet for their energy.
Giving them this type of outlet is really important!
How To Hire This Toy Story Bouncy Slide
Hiring this Bouncy Slide is so easy.
Just call us and we'll reserve it for you!
To find out more about Toy Story, please click here.