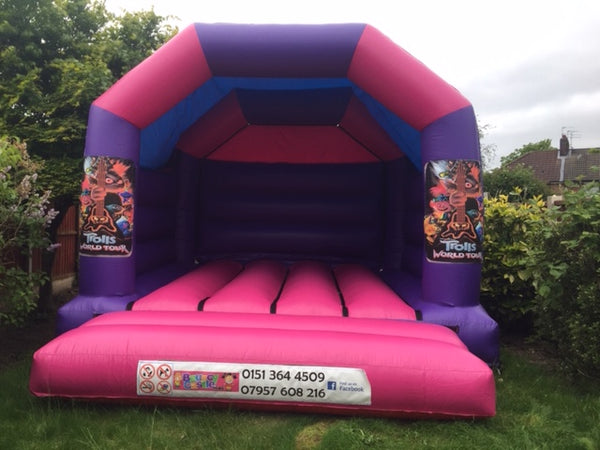 Product Sizes & Prices
Small – (10ft x 12ft) - £50
Medium – (12ft x 14ft) - £55
Large – (15ft x 15ft) - £60
Description
The stars of the animated movie Trolls are now available to hire on this highly sought-after Trolls bouncy castle!
The Trolls bouncy castle is every bit as colourful as the smash-hit film, and it features almost all of those adorable characters from the movie that your kids will know name-by-name! Both the front pillars, arch way and back wall of the castle feature a collage of the Trolls, including the bright hair and colourful clothing you have come to expect.
The ribbed flooring is alternate colours too, meaning not only will this bouncy castle provide hours of fun for kids at your party, it will also add lots of colour and excitement too!
When you mention the word Trolls, you may think of those plastic dolls with spikey, colourful hair which you owned as a kid. Well, you'd be right to. The hugely popular 2016 film was based off those dolls that were first created by Thomas Dam and collected avidly by thousands of kids in the 1990s.
With some of the biggest names in show business lending their voices to characters in the movie, including Justin Timberlake, Gwen Stefani and James Corden, it was always going to be a huge success. As a result, Trolls have been brought back to the fore in toy shops around the world.
The film tells the story of the Trolls' fight to escape the attentions of the Bergens! Our bouncy castle is Bergens-free, meaning your kids can enjoy an afternoon of bouncy fun with the favourite Trolls!
Our amazingly vibrant Trolls bouncy castle is available to hire now, whatever the occasion. We offer a fast and affordable bouncy castle hire service, and like many of our similar bouncy castles, our Trolls product is also available with a rain cover just in case the weather isn't favourable on the day of your party or event.
Get in touch with our team today to reserve the bouncy castle you want for your chosen date.