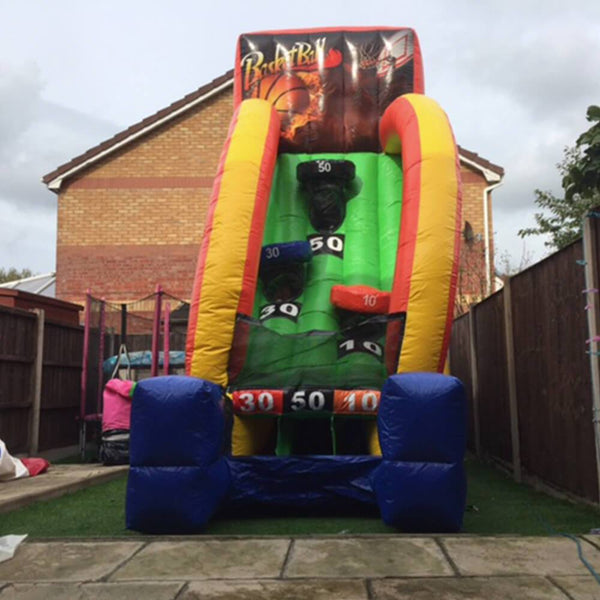 Everyone has been to a fairground or fete where there is a basketball game, so why not bring that fun to your next party or event with our insanely popular inflatable basketball shoot hire?

This amazing inflatable game will keep your guests happy for hours, providing endless entertainment and countless ways of keeping the games interesting. Thanks to the side-by-side layout of the game, two players can play at once which gives the potential for a huge number of challenges and games.

How about having a time trial where each player has to amass a certain amount of points in the time given, or perhaps just a number of set attempts to score. You could try some team play, and have family, friends or colleagues playing in teams or head-to-head to add a fun and competitive angle to your fun-packed event.

The opportunities are nearly endless.
Adding this brightly-coloured and highly-affordable game to your next party or event is sure to be a massive success. Why not also hire our giant dart board at the same time and have a full-on day of inflatable games?!

This is a great game to play as it requires skill without a whole lot of exercise and moving around, so it is ideal for kids of all abilities! Additionally, everyone will fancy their chances when it comes to scoring hoops and will find it impossible to walk past without picking up a basketball and have a try. 
Setup & Requirements
The inflatable basketball shoot hire comes with everything you need to get the fun started. The inflatable structure itself, a fan for inflation (you need to provide the power!), three basketballs and the power leads.

As you will see from the image above, it's quite a size. Therefore, you will need a good amount of space to set this product up in, especially when taking in to consideration the playing area and the nature of basketballs hitting the hoops or bouncing off away. Don't set it up near tables full of food, for example!

It can be used indoors or outside, as long as the space requirements are taken in to consideration.

Once we have delivered the product to you, our skilled and attentive team will get everything set-up and inflated for you so that you don't need to worry about anything.
Simply await the delivery and get ready to play!

Of course, once the hire period is over, we will return and take down the product once more, packing it away and returning it to our depot. We leave no mess and our professional team will only be too happy to answer any queries you may have.

We strongly recommend adult supervision at all times when this inflatable basketball shoot is in use as bouncing on the structure itself is not permitted.
If you would like to hire our basketball shoot, simply call us now on 07957 608 216 and our team will take care of everything for you.